BMK.TV Media production- professionals for films, event and live streaming
In last years we have been focusing mainly on the professional livestream broadcast of press conferences, lifestreaming of exhibitions and events and we offer a wide range of reliable services in one place- from plain videostream to complete liveproduction with more cameras.
Why do we produce films? It is our passion and we claim to produce unique pictures, we want to arose emotions and by all this we want to contribute to the support of brand and company communication.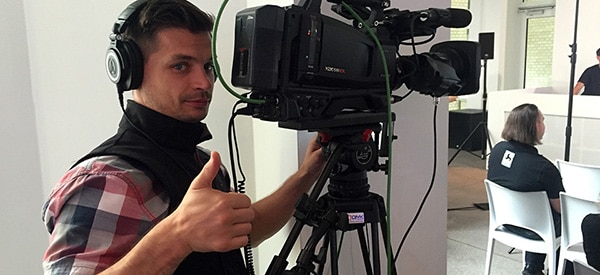 For BMK.TV there are 5 indicators, according which you can evaluate us:
Quality A first-class result always starts with a first-class team. That is why only highly qualified and experienced employees work in our production- as experienced TV cameramen, redactors, editors and media designers. We use only professional equipment to deliver the best possible results for our customers, in terms of content and technology. This quality requirement is also reflected in our prices, which are generally fair and transparent.
Experience We have been on the market since 1997 and have nearly 20 years of experience in the production of content for communication and editing. Our customers can rely on our many years of expertise in TV, live and image production.
Creativity Every project is different and it deserves that we deal with it individually. We like to develop new ideas, look for new perspectives, find unique stories and create a storyline that will grab the viewer from the very first moment and mantain him to the very end.
Commitment We offer to each customer more than he expects: more commitment, more ideas, more self-initiative, more involvement. For us, every project is not just a job, it is a matter of heart, in which we invest our passion and energy.
Guarantee First of all we emphasis a detailed and complex planning. This results in reliable budgeting and unconditional keeping of deadlines. In the production phase, we always have additional equipment in reserve in order to compensate quickly and fully possible technical failures. Because we love surprises – but only the positive ones.
Our services and offer:
news and reports for TV broadcasting
Electronic News Gathering Team in Germany, Austria and Czech Republic
film services and production office in Czech Republic
recording of events and exhibitions
broadcasting of press conferences
interview and talkshows
exibition TV and broadcasting
corporate films and image videos
recording of congresses and concerts
lifestreaming and web TV
brand and sale films
satellite uplink for livestreaming and internet access to events
Everything in one place
Our team consists of permanent employees and free lancers specialized in directing, camera, editing, audio and graphic and we guarantee creativity and professional quality gained by long-termed experience with many productions. Additionally we dispose of various digital editing devices (Avid, Adobe Premiere in SD, HD and 4K) as well with our own lighting and camera filming equipment.
Do you want to know more? Call us at

+49 341 217 8743

or send us an email