Mobile image directing for live broadcasting and live production – flexible and compact; suitable for all locations of events
With our mobile production switcher we carry out live recordings at sport events, press conferences, trade shows, concerts and congresses. The complete live production system (image and sound) is placed in scrollable flight cases so it is flexibly available and quickly to set at the production site.
The mobile production switcher is equipped with up to six cameras, video and audio control, and a linear editing facility and is primarily used for small to medium events and productions. In addition to the internal recording of the signal or to the streaming option, is possible also a signal output via HD/ SD-SDI or component.
Scope and technical details of production switcher
Portable TriCaster live production system (HD/ SD SDI, an integrated multiview)
Multi-channel switching, virtual sets, subtitles, audio mixing
MAZ-recording (HD) and streaming
Parallel signal output HD/SD-SDI or HD/SD component for a video wall or a projector
Live view on broadcast monitors
12channel audio mixer
HD/SD signal inputs
16 x 16 SDI, 3G-SDI, 1-HE- router
32-bit, 4: 4: 4: 4- video processing
200 video transitions in HD broadcasting quality
4x 100m and 4x 50m HD-SDI cable
PMR-intercom for the crew
Required space ca. 2x3m
For larger sport productions, events and concerts come fully equipped OB vans with 10 to 24 camera and optional SNG uplink can be used.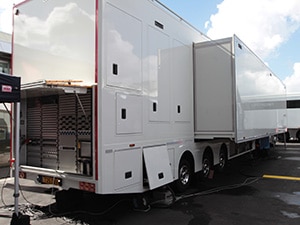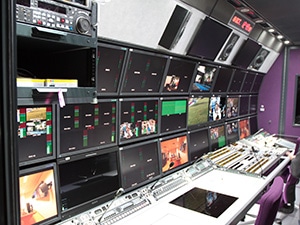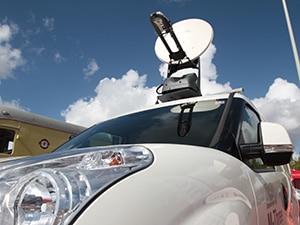 More equipment available on request
Camera production units in HD or SD (Sony, JVC, Grass Valley)
HD wide-angle, super wide angle and telephoto lenses from Fujinon and Canon
HD control and field monitors
MAZ- technology (DV, HDV, DVCam, DigiBeta, HDCAM, etc.)
Audio equipment (mixer, microphones, monitoring, recording)
Camera crane, radio systems
LED video wall/ beamer