A complete package for your event from a single source: live recording, projection on a video wall, livestreaming and production equipment
Unique events are meant to last for eternity. We preserve them, in brilliant quality. Our creative, motivated and engaged production team is a guarantee of the best possible execution. Our work often begins months before the actual event. In the planning phase, we are your partner who thinks from your perspective and translates ideas to technical realization. With us, there are no one-size-fit-all solutions, but successful productions and happy clients. The BMK Media Produktion team is known for its creativity, professional competence, experience and partner-like approach.
Our Services For Your Event
Planning and design, preliminary site visits, production calls
HD and 4K camera equipment
Camera crane
Cablecam, spidercam
Video control / program direction
Sound production
Technical equipment
LED wall / video wall
Recording / post-production
Event livestreaming and video on demand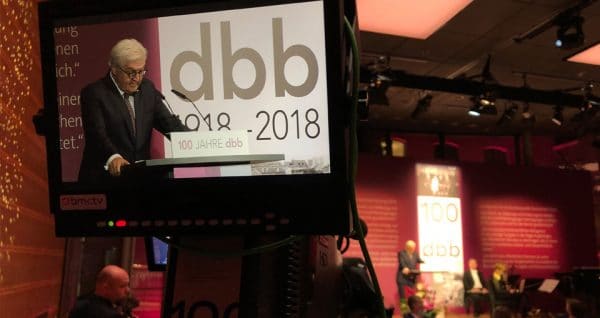 Production equipment and LiveCrew
Depending on the event type and the location size, either our mobile production unit in flight cases or our broadcasting van is used. Through combining hardwired cameras with wireless ones, a flexible coverage of the whole location is achieved. We have our own Triax camera production units and HD wireless links, reaching as far as 1000 m if needed.
To create spectacular perspectives, we have a 9m high camera crane and a cable camera system with up to 300m long cable at our disposal. The camera crane and the cablecam can be easily integrated to the production of events, shows, sports or launch events and can be set up very quickly on the spot.
Direction is the central element of any production, as this is where all the dots connect. We are happy to take over the program direction of show productions. Our director then becomes the "little voice" inside the presenter's head via a wireles in-ear system. The video mixer forms the connection between the director and the camera operators and is so to say the ultimate decision maker as to which iamage will be recorded or broadcast. In addition, there is the CCU operator, video technicians and sound engineers who ensure of the best video and sound quality.
Selection Of Past Productions
Deutsche Bahn Innovation prize, Berlin
GB Award, Frankfurt/ Main
100 Years of dbb, Berlin
GTI coming home, Wolfsburg
Marc Cain Fashion Week, Berlin
Huawei P20 Pro Product-Launch, Paris
Huawei Mate 10 Product-Launch, Munich
Huawei Mate 9 Product-Launch, Munich
The Bundeswehr Day, 16 locations across Germany
The Bundesregierung doors open day, Berlin
The Bundebank doors open day, Leipzig
About You Award, Hamburg
Literary festival, Berlin
Paris Fashion Week, Paris