An ENG crew for Leipzig, Berlin and Central Germany, on the go for TV editorial teams and agencies.
Our ENG crew specializes in reportages, portraits, magazines, documentaries and news and we have been working successfully for several TV stations, independent producers and writers all across Germany.Over time, many pieces have been produced, for ZDF Heute Journal, MDR Umschau, MDR Exakt, RTL Aktuell, RTL Punkt12, RTL Explosiv, N24, N-TV, ARD popular science magazine "W wie Wissen" (loosely translated as "W is for Widsom"), Arte popular science magazine "Xenius", Pro7 documentary We Are Family", Süddeutsche TV, Pro7/Sat.1 and many others.
On the go all across Germany and Europe
Our ENG crew operates throughout Saxony, Saxony-Anhalt, Thuringia, Brandenburg and Berlin and not only throughout Germany but also in Prague and throughout the Czech Republic. We are quickly available, we offer a high level of commitment, competence and the necessary professionalism and we always try to make most of the shooting.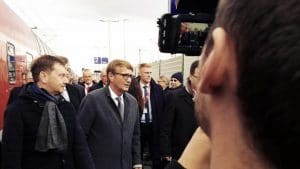 We produce in all broadcasting formats and have equipment for all indoor and outdoor filming. Our teams consist of camera operators and camera assistants and, if necessary, can be supplemented with a recording manager, location scout, make-up artist, etc.
ENG crew equipment
Cameras Sony FS7, Sony XDCAM PDW700/PDW800, Panasonic PX800, Canon C300, GoPro, drones, i.a.
Lens ENG Canon HJ14e x 4.3 IRSE, Fujinon 16-fach HD lens, Canon lens set (Canon 16x 25 F2,8, Canon 24x 70 F2,8, Canon 70x 200 F2,8 mit Stabi, Canon 100 mm Makro F2,8) i.a.
Sound Sound Devices SD 302, Sennheiser SKM 250 wireless with extension, Windfell Angel, Sennheiser MKH416, Sennheiser MD421 i.a.
Lighting Tecpro Felloni LED Bicolor, Dedolight SPS5, LED Kopflicht, Kinoflo, HMI
Tripods Sachtler 18, 20
Sliders Camera slider 1000 with Sachtler 18 swivel head Sachtler CF legs Sachtler flat base adapter Manfrotto Monopod
Screen Small HD 702 bright, wireless for IDX CW1 camera, screen bag with sunshade
Accessories Battery packs, memory cards, laptop
SNG D-SNG / IP-SNG (KA-Sat)/ LiveU for live switching
Booking Conditions
There is a one shift system in place, i.e., it is only possible to book "whole shifts" (one shift = up to 8 hours). It is basically not an option to book a single hour. If the required time exceeds 8 hours, we charge an overtime fee for each started hour. The overtime hours or unused services cannot be credited or "withdrawn" at a later point. Besides, a 25% surcharge is applied to the overtime hours beginning with the 9th hour, 50% beginning with the 13th hour, and 100% beginning with the 16th hour, increasing the daily rate proportionally.
There are weekend and holiday surcharges of 50% and 100%, respectively, and a night surcharge 25% for the whole shift. For the night shift surcharge to apply, at least 2 hours of the booked shift must lie within the 10 PM – 5 AM time bracket. A reasonable break (at least 30 minutes) must be granted after a whole shift. Break time and duration will be arranged individually. Breaks are not charged for.
For short time bookings, i.e. bookings with start within 24 hours, a 20% surcharge is applied. Cancellations must be made in time. If a booking is cancelled later than 48 hours before the start of the shift, 100% will be charged. One-time ENG crew asignments are possible only exceptionally and upon agreement. Depending on the additional costs, a minimum of 50% surcharge will be applied to the daily rate.
Professional, reliable and flexible. Our ENG crews for Central Germany and Berlin. Give us a call

+49 30 120 84 960

for a quote or contact us via our

online form