Production, IP/SNG and satellite broadcasting in one place and ready within minutes
No adequate internet connection for live streaming uplink available at the event venue? No problem. With our automatic IP-SNG satellite broadcasting system, we are able to broadcast practically from everywhere. Our satellite equipment including a power generator is ready for action within minutes, and can generate an IP-SNG connection over Newsspotter / Ka-Sat-Pro.
On the production spot, a place outdoors is needed with a free view of the southern sky, and a 230 V / 380 V power connection. For emergencies, there is a power generator on board. We can connect your PGM program and transmission signal via HD-SDI cable to our encoder with embedded sound or analog audio. In case of longer cable paths between the live production and our broadcasting system, a network connection or an optical fibre link is secured.
Automatic Alignment And Online Within Minutes
If no spot is available outdoors, or if the view to the satellite is blocked by high buildings, our KA-Sat broadcasting system can be set on a flat roof, a container, or another elevated location.
Mobile Production Unit And Camera Technology
Optionally, our mobile HD production unit and production vehicle with HD cameras, HD video mixer, mixing desk and lighting kit can be used. In this way, we can produce anywhere and broadcast immediately, independent from available internet connection or power connection. We broadcast directly from the spot live to the internet, to your website, live switch to the studio or conference site.
Guaranteed Transmission Bandwidth Over LTE Without Bottlenecks
An increasing number of TV stations is using LiveU systems for live broadcasting of events, where the signal is transmitted over multiple bundled LTE (4G) lines. Using this method, bottlenecks in the LTE bandwidth tend to arise very quickly, as too many users are accessing the line at the same time. With our IP-SNG satellite solution, you are on the safe side, as you have a guaranteed stable bandwidth for your live broadcasting.
Redundancy and backup for live stream broadcasting
With an additional satellite uplink, you can achieve true redundancy. Especially for professional live stream broadcasting and data applications, our uplink unit over the KA-Band satellite by Eutelsat serves as a second signal path and can be used should the main connection fail. With appropriate configuration on our CDN servers, the failure will be automatically detected and the connection will be switched to the second signal path. The main advantage: There is no interruption of the transmission, and, therefore, no danger of losing viewers.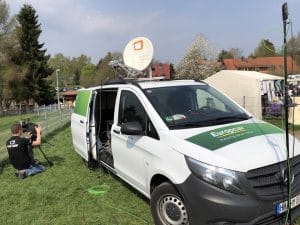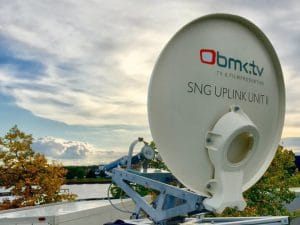 IP-SNG Satellite Uplink Overview
Available all across Europe, part of Northern Africa and the Middle East (free view of southern sky necessary)
Guaranteed synchronous bandwidth up to 10 Mbit/s for audio and video livestreaming, IP data, video conference systems and up-/downloads
Cost-effective in comparison with other temporary and corded solutions
Quick availability – online within minutes
As a flyaway unit easy to transport up and down the stairs and hotel lifts, by car or as luggage on planes
Minimum organizational overhead compared to setting up a temporary broadband conenction
Independent of internal company IT department and their safety regulations
The option to choose multiple internet services: internet browsing, e-mail, FTP, web streaming, etc.
Guaranteed downstream speed and upstream speed up to 10 Mbit/s
Get an immediate customized quote for our IP-SNG broadcasting van: quick & simple & fair. Call

+49 30 120 84 960

or contact us via our

online form