Live Stream – professional event broadcasting in the real time for your business
Does not matter whether there is a press conference, a convention, a product presentation, an opening or other event. With live streaming the event can be viewed by your target audience on the internet either live or with the time lag.
The live transmission of audio and video signals on the internet is called a webcast and consists of words web (World Wide Web) and broadcast.
Services in one place
As a professional full-service provider, we can offer the live production with HD camera technology, the audio recording and the streaming of your event through our LiveCDN network. The mobile video production switcher is capable of integrating titles, charts, power point slides to the video and all this can be broadcasted from the premises in all common formats (Component, SDI, HD-SDI, VGA) on video walls.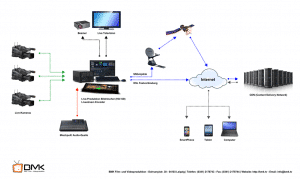 We can take over the produced live signal from the host service provider.
It is required to have a wideband internet access with the sufficient upload rate for the streaming of produced signal via LiveCDN net. Alternatively we can transfer the live stream signal throughout Europe via satellite uplink (SNG) and thus independently on any wideband access.
Streaming
Streaming server services
Live-Streaming
Adaptive bit rate streaming (video transmission in demanded quality)
Live streaming up to 1080p (1920 × 1080 pixels), the packages are optimized for bit rates 450-3000 kbit/s
Flat rates of the traffic, no extra charge and without restrictions
Flashvideo (RTMP-Streaming, Flash HTTP-Streaming)
Support: Flash Player 6 (Windows, Mac OS X and Linux), Apple iPhone, iPad, iPod touch: iOS 3 (HLS HTTP streaming), Android (not only new transmission via HLS, as well as via Flash Player and the old method via RTSP in Android 1.8), IPTV, Blackberry, etc.iPhone, iPad and iPod touch video
HTML5 Video (HLS)
Protocols: RTMP, RTMPE, RTMPT, HTML5 HTTP Streaming (HLS), RTP / RTSP, MPEG-TS Port: 1935, 80, 554 (443)
Fast streaming for 100, 300, 500, 1200, 2400, 4000, 8000, 20,000 (or individual) viewers simultaneously
exact log files for analysis and statistics incl. areal statistics
Video player
Commercial-free video player for Flash, iOS, Adroid, BlackBerry, etc.
Automatic detection from the browser and the system so that on iPhone, iPad, etc. HTTP or RTSP streaming runs under other systems
Flash player with all the features like auto start, live and file streaming, logo insert, wallpapers, preroll & postroll, free adjustment of the video size, frame function, selection of the video quality by the user, advertising function by clicking on the video as a link, etc.
foreign players are supported (JW Player, Flowplayer, etc.)
Optional services
Recording of live streams
Pay-per-View/ Paywall
Improved security and content protection through individual programming including password protection (rates according to costs)
Custom video player programming and adaptation (prices according to expenses)
Backup of streaming servers to increase reliability