Livestreaming provider for professional live broadcasting and livestreaming of events of all kinds all across Germany and Europe
BMK Media Production is a professional full-service livestreaming and video streaming provider with long-standing experience from countless client projects. Besides pure streaming services, we offer extensive additional features and our own internally developed solutions. Lay your trust in our experience and expertise and request a quick non-binding offer.
Streaming services overview
Excellent image quality
Livestream broadcasting in HD, Full HD and 4K resolution
Presentations
Presentation and external signal integration
Multilinguality
Multilingual livestreaming with simultaneous interpreters
Watermark
Watermark / DRM (Digital Rights Management)
Livestream broadcasting to PCs, laptops, tablets or smartphones
Statistics
Analytics and statistics including interface
We will broadcast your event, press conference, congress, product presentation or sports event as a live video stream in broadcast quality over the internet available worldwide. Our livestreams can be received by all end devices from PCs to notebooks running Windows, Linux, iOS or mobile smartphones and tablets running Android, Blackberry or the iOS operation system.
Stellar testimonials. Happy customers.
To get an idea of our services, take a look at the BMK Production blog with detailed information on the completed live streaming projects.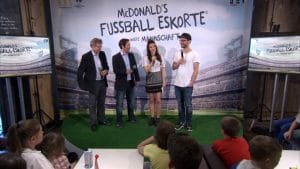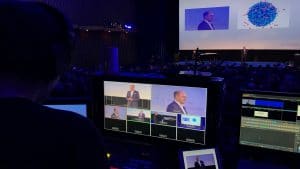 Live stream Made by BMK. A selection of past projects with BMK Media Production as the live streaming service provider.
Conference market of energy services, Berlin
dbb annual meeting, Cologne
Live webinar, University clinique Augsburg
Live webinar, Uniklinik Homburg / Saar
The Reading Foundation reading day, Berlin
UCI trials worldcup, Berlin
Bible TV religious service, Berlin
The Making Europe's Economic Union work conference, Berlin
"Universities in the Digital Age" symposium, Berlin
VG Bildkunst general meeting, Bonn
VG Musikedition general meeting, Kassel
GEMA general meeting, Munich and Berlin
Mukoviszidose e.V. annual meeting, Schweinfurt and Weimar
Huawei P20 Pro launch event, Paris
Huawei Mate 10 launch event, Munich
Livestream for the Bavarian representation, Brussels
Huawei web talk, Dusseldorf
Swisscom live show, Berlin
SBB-Cargo exhibition livestream, Munich
Blue Swords Cup, Meissen
Press briefing of annual results, EEX AG, Leipzig
Press briefing of annual results, Verbio AG, Leipzig
Investor conference, Frankfurt / Main
The Bundeswehr Day, Germany
2N Day 2018, Prague
CinemaxX townhall meeting, Hamburg
SupplyOn exhibition livestream, Berlin
Federal Ministry for Labour and Social Affairs
BUMBUM fashion show, Berlin
IKA keynote, Washington
TÜV Süd townhall meeting, Nürnberg
McDonalds, Berlin
AboutYou Award, Hamburg
UDG townhall meeting, Dusseldorf
CMS-HS press conference, Frankfurt / Main
Polo European Championship, Berlin
Cologne fair press conference
VFA Research in Stage, Berlin
The Aktionsbündniss Teilhabeforschung symposium, Berlin
Kumon instructor conference, Düsseldorf
dbb Trade Union Conference, Berlin
Primavera Fachakademie professional academy, Oy-Mittelberg
All Services In One Place
As a professional full-service provider, we can offer the live production with HD camera technology, audio recording and the streaming of your event through our LiveCDN network. Our mobile video production unit is capable of integrating titles, charts, power point slides to the video and all this can be broadcast from on the spot in all common formats (Component, DVI, VGA, HDMI, SDI, HD-SDI) to video walls. Alternatively, we can take over the produced live signal from the host service provider.
A broadband internet access with the sufficient upload rate is requeired for the streaming of the produced signal to the LiveCDN net. Alternatively we can broadcast the livestream signal via the
satellite uplink (SNG)
and thus independently on any broadbandband access.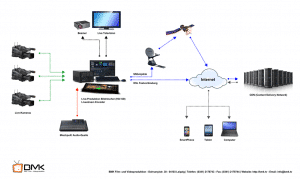 The live broadcasting of audio and video signals to the internet is called a webcast, which is a compound of web (as in World Wide Web) and broadcast.
Get an immediate customized quote for live stream broadcasting: quick & simple & fair. Call

+49 30 120 84 960

or contact us via our

online form