BMK.TV – Your partner for live streaming and video on demand, Paywall and social media streaming
With a live streaming and streaming on demand you can reach audience all around the world. The video broadcasting of events, press conferences, congresses and presentations via live streaming on internet, to mobile devices and on social networks becomes more and more important for companies and it creates new target groups. The live streaming is possible from almost anywhere thanks to modern technology, effective workflow and strong internet access, all this at a good price and no longer determined for only large enterprises.
As a full service live stream provider we can implement the whole video live production with a professional camera crew and live video streaming on site. For external agencies and producers we can take over the PGM signal which they produce and we guarantee a smooth transfer and distribution of the signal via an existing internet connection or our mobile SNG satellite uplink.
Streaming services for your needs:
for:
Adobe Flash
iPhone, iPad
Android (smart phones and tablets)
Amazon Kindle (Fire HD, etc.)
BlackBerry (Z10 (BB10), Bold, etc.)
Various other smart phones and tablets
IPTV/ settop-boxes / VLC Player, etc.
Advantages
The advantages are obvious: the streaming of current topics over the internet is worth only a fraction of the cost compared to traditional broadcasting and thus it is interesting for small and medium-sized companies, associations and specialized institutions.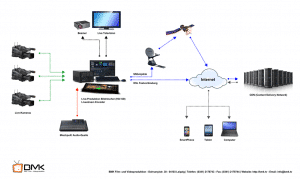 Further advantages are the security, the copy protection, the possibility of live transmission and considerable reduction of traffic. Even streaming to mobile devices such as iPhone and iPad has become possible on a professional level! We can even transmit the same video files and live streams simultaneously in different formats for mobile devices and flash on the PC.
Up to 25, 100, 500 or x-thousand spectators can simultaneously access the video stream which is also available in excellent HD quality. If needed, the video and live stream can be made accessible only for a closed user group with appropriate access codes or for spectator from specific regions (geo tagging). You have the choices of billing: either in advance according to pre-booked number of viewers or after the streaming based on the amount of transferred data.
Billing by amount of viewers
With the reservation of a certain number of viewers you can work with a fixed amount in your planned budget. Then is the streaming video reserved in the given prearranged period for the booked number of viewers. Your advantage: 100% traffic flat rate and 100% fixed price/ day without recalculation. Streaming packages are available for 100, 200, 500, 1.000, 2.500, 4.000, 8.000, 20.000 or individual number of viewers. If the booked number is reached, then additional viewers receive an indication.
Billing based on data transfer
The billing for data transfer makes sense if the number of viewer is clearly set or the stream is allowed only to a very small audience for a short period of time. This is usually the case at press conferences with the pre-enrolment or by intercompany transmissions. Here the accounting according to data transfer can be cheaper than a flat-rate package.
But even for live streaming broadcasts with unclear number of viewers, is the charging based on data transfer an interesting alternative. You actually pay only the used traffic, the limits of spectators are not set and the message "stream is busy" appears only when more spectators that is planned want to retrieve the stream.
If you want to make your live stream or video content available as a pay-per-view, we also recommend the transfer-based billing. Because it means that you only pay for the video streaming, if someone is actually watching it and if the person has paid for video on demand.
Statistics of live and file streaming
You will have available different statistics:

Statistic area charts for long-term overview
Here you can see the required data in charts over the past few days, months and years.
Statistics of log data
The log data of the streaming server allow a detailed own evaluation. Both via external software such as Sawmill (or Excel, for example), as well as in your own web interface via own programming. These data are suitable for accounting and show user behaviour precisely every second (video on demand from file XY, date of start, stop, rewind to second X, etc).
24 h statistics in the real time
Here you can see the number of accesses within the last 24 hours minute by minute. Especially for events with live broadcasts, it is interesting to see how many viewers are watching right now