Video recording and livestream broadcasting of press conferences, press briefings of annual results, and shareholders' meetings
As a full-service provider, BMK.TV ensures the video recording and live stream broadcasting of your press conference worldwide, takes care of the on-site audio and sound equipment and sets up an event WLAN for the present journalists. Other guests, as well as the famous pushing on the (symbolic) red button can be live switched to the conference room over satellite.
Virtual Press Conferences
Besides the traditional press conferences with journalists personally present, so called virtual press conferences have caught on over the past few years. Virtual press conferences can be organized quickly and easily in any conference room. They reduce the usual transportation time and costs and command wider attention across regions.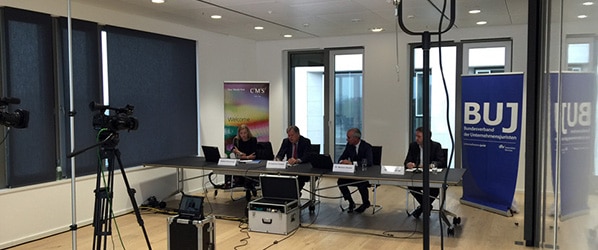 Livestreaming, Password Protection And Interactivity
With livestream broadcasting, we offer the option of pre-registration for journalists and a password protected access to the live broadcasting. Especially for internationally active companies, a multilingual livestream and the employment of simultaneous interpreters is a must. Our chat and live comments module ensures genuine interatcion, as the viewers' questions can be answered directly as part of the press conference.
We support your message with perfect visual presentation
Depending on the size and the expected course of the press conference, it will be recorded with up to three cameras. The arrangement is chosen such that both the panel and the potential questioners can be well filmed.
In the simplest case, a press conference will be recorded with a single camera, which is centered on the podium. This setting is often chosen in today's news business and for press conferences with a small number of participants. The trade off for the favourable price is a static camera position which allows for only one perspective and swings are quite necessary.
Especially with long-planned press conferences and presentations, we recommend using at least two cameras. In this way, a varied and interesting composition can be achieved.
What You Can Expect From Us
Our team will arrive about 90 minutes prior to the press conference and we will set up the cameras, sound and recording technology. After a light and sound test we are done and ready to shoot. In case of larger events and annual results' briefings that require extensive livestreaming, sound and conference equipment, we arrive one day in advance. The camera and sound signals are mixed live on-site. Upon request, they are immediately available for video streaming, and after the end of the press conference, they are available digitally for publication on the internet or intranet.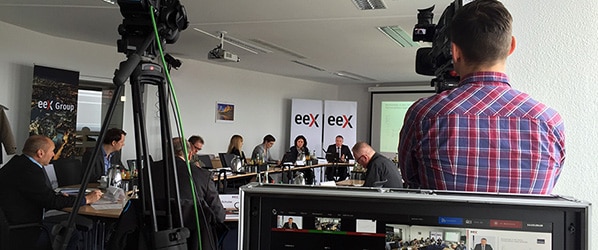 Additional Options
Multilinguality / simultaneous interpreters
Incorporation of rich-media content
PK to Go – recording on USB stick
As a special service, you can offer to the journalists a possibility to load the recording and other documents immediately after the event on a USB stick.
Selection of Past Productions
Press briefing of annual results, EEX AG (since 2013)
Press conference, Statistisches Bundesamt
Press conference, Hospital Association Saxony
Press conference, CMS Deutschland and BUJ
Media conference, SBB Cargo AG
Press conference, gamescom
Press briefing of annual results, Verbio AG
Press conferences are the basic building block of public relations work for politicians, non-government organizations, various institutions, clubs, initiatives, companies and public figures. At a press conference, important information and statements to current issues, annual reports or announcements are presented to media representatives.
Get an immediate customized quote for press conference live recording: quick & simple & fair. Call

+49 30 120 84 960

or contact us via our

online form