Accessible livestreaming with sign language interpreters, audio descriptions and live subtitles for people with disabilities
The UN Disability Rights Convention, which was put into effect in Germany in 2009, comprises the right of the disabled for access to all public information and discussions. For the hearing-impaired, we ensure accessibility of the livestreaming webcast by adding subtitles and the usage of sign language. For the visually impaired, we include audio descriptions, and easy language is incorporated.
We possess experience in the field of accessible livestreaming, as well as contacts for sign language interpreters and live subtitling experts. We can incorporate these additional elements into any live stream, both from the technical and the creative standpoint.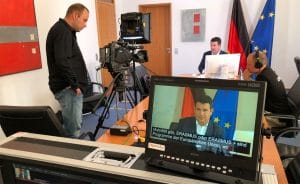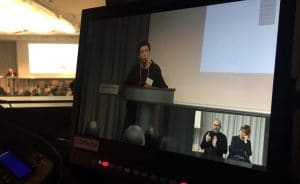 Accessible Livestreaming Options:
Incorporation of sign language interpreters in the livestream on screen, on request before greenscreen to achieve transparent background.
Incorporation od live subtitles (German or multilingual).
Incorporation of audio descriptions, in addition to the live sound.
Incorporation of easy language.
Creation of an accessible microsite conforming to the WCAG 2.1 AA standard to be connected to the livestream, responsive, with variable font size adjustable through buttons.
Livestreaming Video Player with Accessible Layout
Example of a split-screen view of the live streaming video player with live image, live subtitles, and incorporation of a sign language interpreter, from the EUTB (a German consulting agency for the disabled) meeting held on behalf of the Federal Ministry of Labour and Social Affairs.

Accessible livestreaming ensures access to information and the participation in social life to the disabled. The necessary elements can be incorporated into the livestream with manageable overhead.

Get an immediate customized quote for our accessible livestreaming: quick & simple & fair. Call

+49 30 120 84 960

or contact us via our

online form