Digital Satellite News Gathering (DSNG) Transmission OB-van for TV, event broadcasting and live switching.
The best possible quality with the highest level of transmission security. DSNG HD transmission van is used for professional live broadcasting over satellite, live TV broadcasting, live switching and point-to-point links. The transmission meets the valid EBU standard, using the MPEG2/MPEG4 standard (DVB-S/DVB-S2).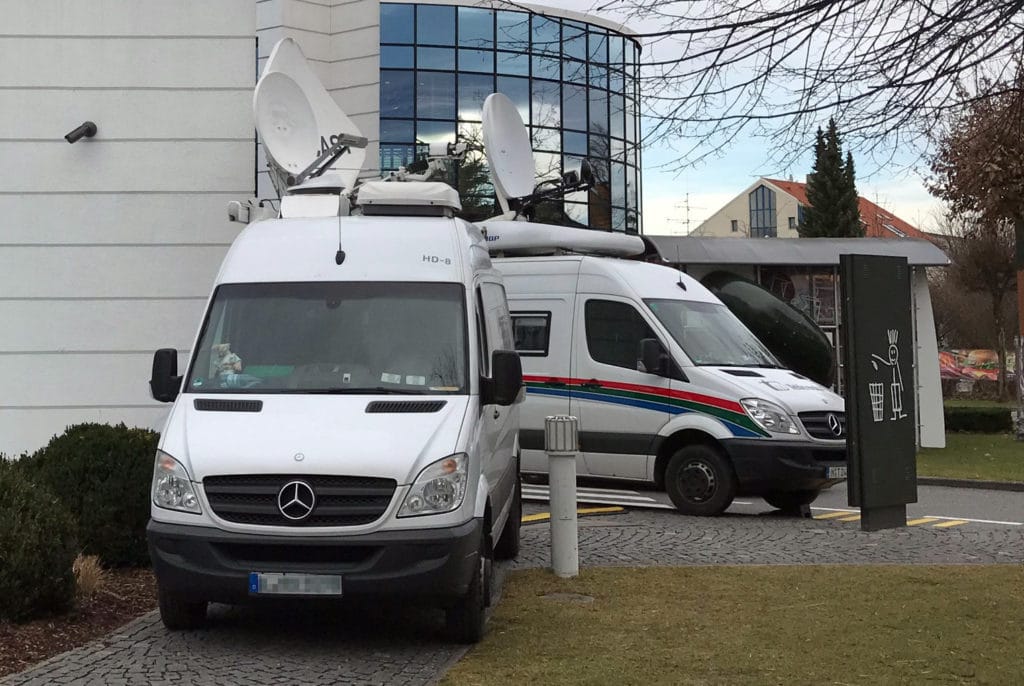 The D-SNG satellite transmission broadcasts in KU band, having a broadcast licence with Astra, Eutelsat, Intelsat, Hotbird and many more. Thanks to this, there is an increasing number of possible transmission paths available, especially at critical locations. In Berlin, Leipzig, Hamburg, Cologne and Munich, we are the quickest, and we offer live broadcasting in Germany, Poland, the Czech Republic, Austria, Switzerland, Italy, France, Belgium, the Netherlands and Denmark. The satellite transmission van can also support large TV OB vans with live production as an uplink unit.
DSNG Broadcasting Van Use Examples
Live switching / discussions and live broadcasting (concerts, sports, events, news, elections) in TV station studios / control rooms
Point-to-point transmission for medical live broadcasting and live surgeries with a feedback audio channel
HD live broadcasting of concerts and theatre performances to movie theatres
Live broadcasting of religious services from churches and congregations over Astra or Eutelsat
Live switching / live interviewing of speakers at conferences /press conferences and discussions
Uplink / downlink for TV broadcasting vans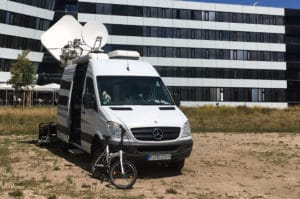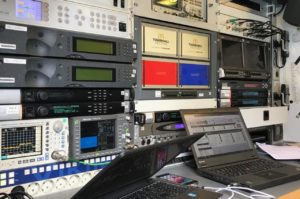 Broadcasting And Receiving Equipment
Dual-path Ku band
Broadcast system using redundancy
Data transfer rate up to 25 Mbit for DVB-S, up to 60 Mbit for DVBS-2
Resolution: HD/SD; Samplerate 4:2:0 or 4:2:2; BAndwidth 6,9, 12, 18, 24, 36 or 48 Mhz
4 tones (stereo) or 8 tones (mono)
BISS (Basic Interoperability Scrambling System) encryption, BISS mode 1, BISS-E
Optionally equipped with camera technology, image and sound mixing console, audio equipment, intercom system
Fahrzeugdaten
Mercedes Sprinter
L/B/H: 5,90m/2,00m/3,20m; Gew.: 5 t
Spannung: 380V CEE 16 Ampere
Stromerzeuger bis 10 KW
alle senderelevanten Komponenten USV gesichert
Get an immediate customized quote for our DSNG broadcasting van: quick & simple & fair. Call

+49 30 120 84 960

or contact us via our

online form